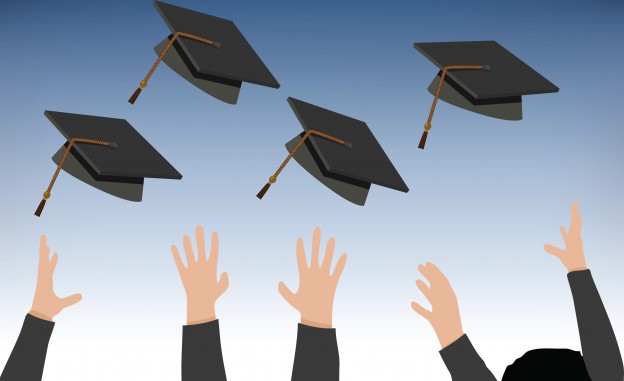 Infographic: 4 Ways for New Grads to Establish Credit
Post-graduation can be a stressful period of transition. You're under pressure to secure a paying job in your field. The clock on your student loan grace period is ticking. Maybe you already have some credit card debt. This is an important time to establish good credit.
But how do you go about it?
Check Your Credit Score
On average, graduates leave college having accumulated $26,600 of debt. While that may sound daunting, it also means many college grads have already begun establishing credit well before graduation. Your credit score represents, among other things, your level of financial responsibility when it comes to paying back debt. Everyone from potential landlords to car insurance companies to cell phone companies could look at your credit score. How credit scores are calculated is complex. In the simplest of terms, establishing credit, then using it wisely over time can give you a better chance of obtaining a good credit score.
Student Loans
When your grace period is up, it's time to start making a monthly payment. One of the most important things you can do to establish and maintain good credit now is make sure you always pay your student loan bill on time and in full. If you are struggling financially, you may want to call your loan provider as soon as possible to discuss hardship or deferment options. Doing this can also affect your credit score, though it may reduce the impact. They may lower or defer your payments until you're more financially secure.
Secured Credit Card
Sometimes overlooked, this option is very low risk and can sometimes help establish credit. Even if you have no credit history, your bank may offer you a secured credit card. How is this different from regular cards? With a secured card, you deposit a set amount of money into a security deposit account with the lender. That money serves as collateral. Once you prove your income and are approved for the card, it will be granted to you—usually with a credit line to match your collateral account. Unlike prepaid cards, that security deposit is not used to pay your bill. Rather, you'll pay your bill each month, and the collateral will stay in the security deposit account.
Credit Cards
If you made it through college without getting a credit card, now may be the time to apply for one. Provided you haven't made poor credit choices thus far, you should be able to find a card that suits you. Resist the urge to apply for many cards all at once. Multiple credit inquiries in a short span may have a negative effect on your credit score. When looking for a credit card, consider any added benefits the card provides, such as reward points or theft protection on purchases. Be sure you know the annual percentage rate (APR), which is the fee you'll be charged when a balance remains on your card for longer than one billing cycle. Look closely at introductory rates, how long they last, and what the rate will be after the initial one expires. Be sure to pay your bill on time because late payments may be reported to the credit bureaus. Pay off your full balance every month. If you can't pay your card balance each month, you could be living beyond your means.
Mobile Phone Contract
When you first open an account with a mobile provider, they may run a credit check. If you have no credit history or a low credit score, you might have to pay a fee to the mobile provider to sign the contract. Unlike other forms of credit, timely payments to your mobile account may not positively influence your credit score. However, late payments to your wireless provider may be reported, and may negatively impact your credit score. While a mobile phone account won't build your credit on its own, it is so commonplace for mobile providers to check credit that it's worth understanding the process. Whether you're headed back to your parents' house with $30,000 of debt, or you're walking straight into a great job with no debt at all, continuing to establish credit can help you achieve financial goals later in life.
About Becky Frost: Becky Frost is Senior Manager of Consumer Education for Experian Consumer Services, which offers credit monitoring products like freecreditscore.comTM. Find Becky on Google Plus.
This article is provided for general guidance and information. It is not intended as, nor should it be construed to be, legal, financial or other professional advice. Please consult with your attorney or financial advisor to discuss any legal or financial issues involved with credit decisions.
Published by permission from ConsumerInfo.com, Inc., an Experian company.   © 2014 ConsumerInfo.com, Inc.  All rights reserved.