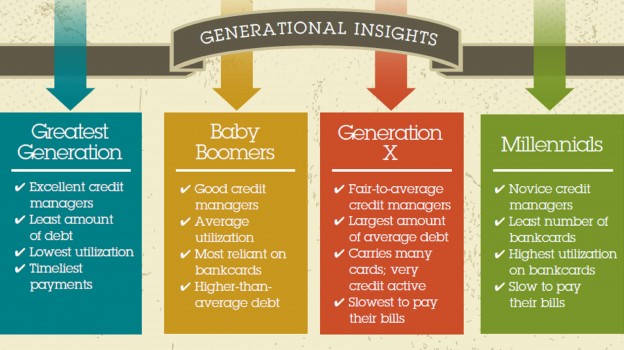 Infographic: State of Credit Report Reveals Credit Habits of Key Age Groups
It's that time again. From the year's worst movies to the most-searched Web terms, this is the month for end-of-year wrap-ups. Most will probably be entertaining but with little practical use. Here's one year-in-review of credit usage across America that we hope you will find useful –  Experian's Fourth Annual State of Credit study.
Experian® analyzed credit scores, number of credit cards held, how much was spent on those cards, and late payments for four generations: the Greatest Generation (66 and older), Baby Boomers (47 to 65), Generation X (30 to 46) and Millennials (19 to 29).
Here's what we found about credit among key age groups:
The Greatest Generation has the lowest amount of overall average debt of $23,245
Millennials have the lowest number of bankcards (1.57) but are tied with Generation X for the highest amount of credit used
Baby Boomers have the most bankcards (2.66) and the highest credit card balances.
Boomers have a low incidence of late payments
Gen X has the highest average debt — $30,039, which is 7.7 percent higher than the national average.
Here's what we found about credit use overall:
Average debt is $27,887.
Average number of bankcards is 2.19, and average balance on those cards is $4,501.
Average revolving utilization ratio is 30 percent.
Average incidence of late payments is .43.
While the study tells us that, overall, the State of Credit for Americans is pretty good, younger generations have some room for improvement. It also underscores that good credit habits, such as paying bills on time and paying down debt, continue to be the best ways to move the credit needle in the right direction.
Now that's a lesson well worth remembering in the New Year!

This article is provided for general guidance and information. It is not intended as, nor should it be construed to be, legal, financial or other professional advice. Please consult with your attorney or financial advisor to discuss any legal or financial issues involved with credit decisions.
Published by permission from ConsumerInfo.com, Inc.  © 2017 ConsumerInfo.com, Inc.  All rights reserved.