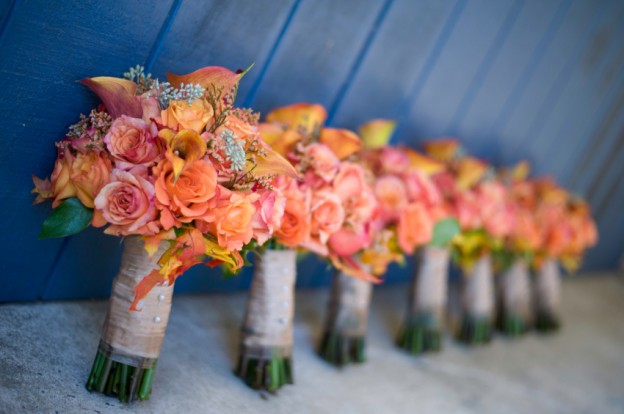 How to Plan a Wedding on a Small Budget
Your wedding day is the one day in your life where you're likely to want to splurge, even if you're a frugal person. Between your desire to have "the perfect day" and the wedding industry's enticements to keep up with the Joneses, it can be easy for the expenses to add up quickly. If you've got a tight budget, you have to be disciplined when it comes to organizing your finances. Here are a few ideas for saving money on your wedding.
Wed Off-Season
Choose a non-traditional time. Summer ceremonies and Saturday receptions are inevitably the most expensive. Since demand is so high, vendors can keep prices up. If you can swing a mid-week wedding, or one in an off-season month like January or March, you can usually keep costs much lower.
Plan Ahead
Plan as much as possible in advance. Once you begin the process of buying things and reserving places for your wedding, you'll be bombarded with temptations to expand and "improve" your wedding. If you've thoroughly planned exactly what you want in advance, it's easier to avoid expensive changes later.
Find Alternatives for Some Big Expenses
Avoid one-time splurges. Flowers, gowns and other one-use items can make a wedding budget skyrocket. If you don't ever plan on wearing your wedding gown again, consider renting or borrowing one. Flowers might only last a day but can be among the most expensive things at a wedding, so think about using inexpensive local blooms.
Shop for Discounts
Favors and decorations often cost half the price or less at discount stores than at wedding shops. Glassware, gift trinkets, imitation flowers and even invitations are often available in bulk at low prices. Bridal forums and websites like craigslist can also be a good resource for barely used wedding items.
Deviate from the Traditional
Skip the formal, sit-down dinner. Catering costs are often the single most expensive item in a wedding budget. Consider a buffet or even a potluck.
Budget the Bar
Choose your alcohol carefully — or skip it altogether. Offering your guests top-shelf liquor brands at an unlimited bar is a sure way to trash your wedding budget. Ask for house brands, if you feel the need to serve more than beer and wine at all, and put a cap on the service. Many venues will allow you to convert to a cash bar after a certain amount has been spent, or you can opt to have your guests pay for all alcohol themselves.
Reduce Vendor Hours
Limit the hours of your photographer. While you'll no doubt want your special day to be thoroughly documented, there's no need to have a team of photographers and videographers around you and your family the entire day. Opt to have your friends and family take your pre-wedding shots. Send your photographers home after your first dance and cake-cutting, rather than paying for hours of dance-floor footage.
Cut the Cake Costs
Pay for a display cake only. Many vendors now offer realistic-looking wedding cakes that only have one section of actual cake that you can use for your "cutting the cake" photos. If you can work dessert into your buffet, you might not even need to serve cake, and with a good buffet, your guests might be so full that they might not even want cake. If you choose to serve one anyway, ask your venue for a smaller, less formal cake for serving rather than a fancy one for presentation.
Don't Rely On Credit
Pay for all your wedding costs with cash you've specifically allocated for the event. If you're not relying on your credit card to cover every new item or idea that will make your day perfect, you can't get yourself into trouble. It may be the most important day of your life so far, but any married couple will tell you that it's more important to start your marriage off on the right financial foot.
About the Author
John Csiszar began writing in 1989 and his work appears in various online publications, including The Huffington Post. Csiszar earned a B.A. in English from UCLA and served 18 years as an investment adviser and certified financial planner.
This article is provided for general guidance and information. It is not intended as, nor should it be construed to be, legal, financial or other professional advice. Please consult with your attorney or financial advisor to discuss any legal or financial issues involved with credit decisions.
Published by permission from ConsumerInfo.com, Inc.  © 2017 ConsumerInfo.com, Inc.  All rights reserved.