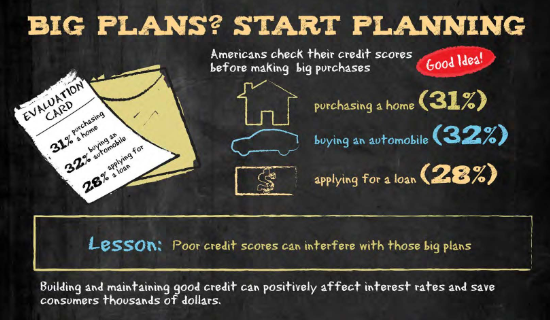 Infographic: Give Yourself Some Credit
Do you ever wonder what other people know about credit? Or how they use it, sustain it or how often they look at it? This infographic shares some information from a 2013 survey conducted to analyze Americans' understanding and awareness of their credit.
Here are three credit lessons we learned and wanted to pass along:
1. Check your credit score and report often – being aware not only helps you keep tabs on your own progress, but can help you keep an eye out for signs of identity theft.
2. Plan ahead for big purchases – most people check their credit before making a big purchase. If you're getting ready to buy a car or home, it's good to have a look at your credit history before a potential lender does.
3. Use credit to inform your purchases – over 75% of those surveyed said they'd hold off on using credit or making large purchases if they discovered they had a low credit score.
Remember to give yourself some credit when it comes to your finances. You have many resources available to keep things on track!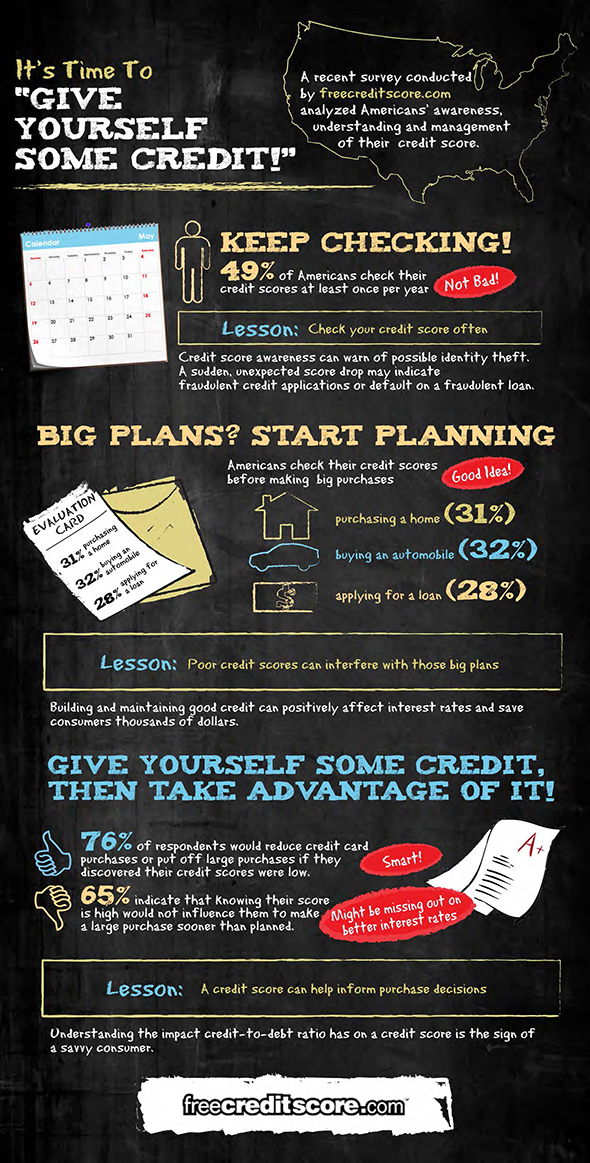 Survey methodology
The data points referenced above come from a study commissioned by Experian, produced by research firm Edelman Berland and conducted as an online omnibus survey among a nationally representative sample of 1,201 American adults ages 18 to 65 and older. Interviewing took place from April 1–4, 2013. The margin of error is plus or minus 3 percent.
This article is provided for general guidance and information. It is not intended as, nor should it be construed to be, legal, financial or other professional advice. Please consult with your attorney or financial advisor to discuss any legal or financial issues involved with credit decisions.
Published by permission from ConsumerInfo.com, Inc.  © 2017 ConsumerInfo.com, Inc.  All rights reserved.