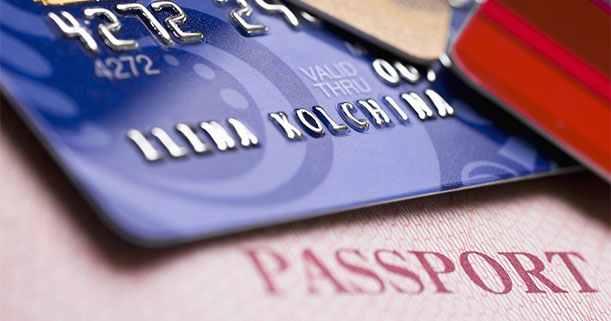 Keep Your Identity Safe When You Travel
Here's a sobering thought to ponder: identity thieves are just as excited about the vacation or business trip you're about to take as you are. When traveling, your personal information may be more exposed than when you're at home or on the job. In a person's absence, it's not uncommon for identity thieves to open new credit card accounts or empty bank accounts.
There's also the danger of having your pockets picked while traveling. Wallets and purses can contain personal and valuable information you've long forgotten about. We've all seen movies and read stories about that sudden bump by a casual stranger who's walking briskly through an airport terminal. Hours later, it dawns on the victim what happened. So – how do you keep yourself and your family safe from identity theft while traveling?
Don't Let Your Good Credit Get Compromised
You've worked hard to keep your credit on par. You have a reputation for paying your bills on time and making good saving and spending decisions.  Yet it can be easy to neglect an overflowing mailbox, and stacks of newspapers on the front porch or across the lawn can send a signal to identity thieves that you haven't been home—and may not be for a while.
Here's what you can do to help keep your identity safe while traveling:
Give your home a lived-in look.  Important documents, checkbooks, and credit cards in a desk drawer will be fair game for the identity thief looking to score. Lock up valuables in a safe place. Set a light or two on pre-programmed timers, so that your home appears occupied from the street view. Let a trusted neighbor know that you'll be gone—your neighbor might even be willing to bring in your trash cans off the street and collect your mail and newspapers. Alternatively, you might want to consider booking a housesitter to keep an eye on things.  Just make sure he or she is someone you can trust
You can also consider signing up for identity theft protection. Don't wait until you think you're a victim of identity theft. Take the steps to help protect yourself from identity theft damage.
Traveling for business or pleasure is a necessity for millions of people, and it's a national pastime that helps "make the world go 'round." Just remember that you play a role in helping prevent identity thieves from spoiling your travels.
This article is provided for general guidance and information. It is not intended as, nor should it be construed to be, legal, financial or other professional advice. Please consult with your attorney or financial advisor to discuss any legal or financial issues involved with credit decisions.
Published by permission from ConsumerInfo.com, Inc.  © 2014 ConsumerInfo.com, Inc.  All rights reserved.