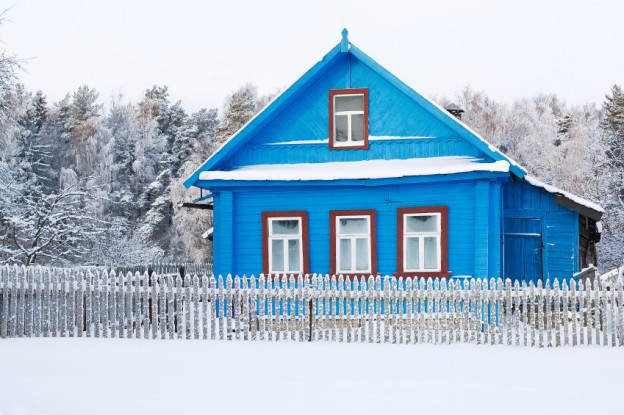 Six Projects to Protect Your Home Against High Winter Energy Bills
Now that the weather has turned colder, throwing on some sweatpants and sweaters and lowering that thermostat is sure to save you some money. To insulate yourself from high energy bills however, you're going to need to do a bit more than just that. Consider the following affordable projects to protect your home – and your wallet – when that winter weather sets in.
1. Sign Up For an Energy Audit
The best thing about this project is that it doesn't involve any elbow grease – or potentially any money. The best way to discover how to cut your winter energy bills is to let an expert do the investigating for you. Lots of local utility providers offer energy audits for their customers, and some perform them for free. Just make an appointment and a rep can come to your residence, take roughly an hour to perform a walk-through, and put together a detailed report outlining all of the ways you can save. After I had mine done, I instituted the suggestions and my bills dropped nearly 30%.
2. Rotate Your Ceiling Fans in the Right Direction
If you have ceiling fans, your instinct might be not to run them during the winter, but this is a mistake. They can reduce your winter heating bills just as much as they can lower your summer cooling costs. Most have a switch located on the side of the fan to control the direction. For the winter months, you want them rotating in a clockwise direction so they redistribute the hot air collected at the ceiling.
3. Get Your Gutters Cleaned
Getting your gutters cleaned is important, especially after those backyard trees start to shed their leaves. Clogged gutters can quickly fill up with rain, and once it gets colder this can freeze and damage them, and even the frame of your home. It's a lot easier to keep your gutters clean than to pay to have them reattached. Check social media or Craigslist for handymen in your area or do the job yourself.
4. Beef Up Your Windows and Doors
Leaky windows and doors can really throw your winter heating bills for a loop. Inspect and replace window caulking as needed (be sure to remove all old caulk before applying new) and take a look at the weather-stripping on your doors to see if it's adequate. If you see daylight shining through, you need to upgrade. Stop by your local hardware store and pick up a roll for just a few bucks. Place your hand at the bottom of each exterior door and if you feel any wind, install a draft stopper. These are cheap as well.
5. Examine Your Furnace
You may be tempted to pay a contractor for an inspection of your furnace, but if your budget is tight, you can do this on your own. First, inspect the furnace itself and the area around it for soot. If you don't see any, that's good sign. Then, turn your heat on and examine the flames inside the furnace. They should be blue in color, and consistent. If the flame flickers or has any orange or yellow in it, that's not a good sign. Inspect your furnace filter as well and replace it if dirty. If you notice any issues, contact a professional, unless you're well-versed in HVAC maintenance.
6. Inspect Plumbing and Piping
Taking a look at your plumbing and piping may also be a job for a professional if you're not comfortable with it, but if you are, try on these tips for size. Inspect your water heater for rust. If you see any, consider getting it replaced. Inspect all pipes for leaks. Locate all shut-off valves in your bathrooms and kitchen and test them to ensure they function properly. Nothing can take a bite out of your wallet like an unexpected home improvement project, so be sure to stop them before they happen.
One of the more common ways to save on home energy bills is to sign up for a fixed pricing plan from your energy provider. Just be sure to perform a cost analysis before doing so, especially if you're able to lower your costs through some of the above ideas. If so, you might be able to swing a normal pricing plan and end up paying less than any fixed rate could offer.
What ways can you think of to protect your home against high winter energy bills?
About the Author
Richard Stanley shares tips related to home improvement projects, real estate, credit and debt, and lifestyle.
This article is provided for general guidance and information. It is not intended as, nor should it be construed to be, legal, financial or other professional advice. Please consult with your attorney or financial advisor to discuss any legal or financial issues involved with credit decisions.
Published by permission from ConsumerInfo.com, Inc.  © 2014 ConsumerInfo.com, Inc.  All rights reserved.