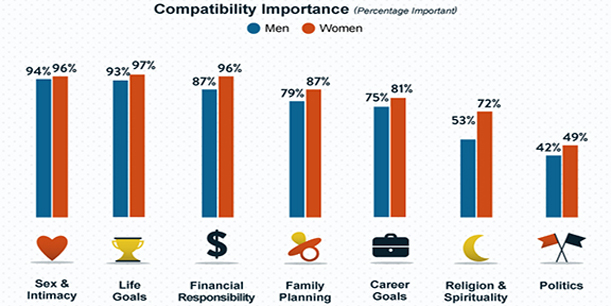 Infographic: 'Til Debt Do Us Part?
While it may seem superficial to consider, it's not surprising that both men and women stated that money management is key when considering compatibility. In fact, the most recent study from freecreditscore.com™ revealed that men and women rank financial responsibility more important than physical attractiveness when considering marriage.
Collectively, the survey demonstrated that most people consider a romantic partner's ability to budget before entering a serious relationship. About half of the respondents have concerns that if their significant other has poor credit, it will negatively affect their chances of securing a home mortgage, managing a joint account or acquiring competitive interest rates later in life.
Other key points of the research:
Women find financial responsibility (96 percent) more appealing than physical attractiveness (87 percent) or career ambition (87 percent) when evaluating a romantic relationship.
Women measure financial compatibility and sex/intimacy (96 percent) equally as essential when choosing a long term partner.
Nearly half of the participants (48 percent) discuss their credit score with a romantic prospect or partner, and 39 percent discuss it within the first year of a relationship.
About one in four respondents consider a poor credit score a deal breaker when contemplating marriage.
This article is provided for general guidance and information. It is not intended as, nor should it be construed to be, legal, financial or other professional advice. Please consult with your attorney or financial advisor to discuss any legal or financial issues involved with credit decisions.
Published by permission from ConsumerInfo.com, Inc.  © 2017 ConsumerInfo.com, Inc.  All rights reserved.