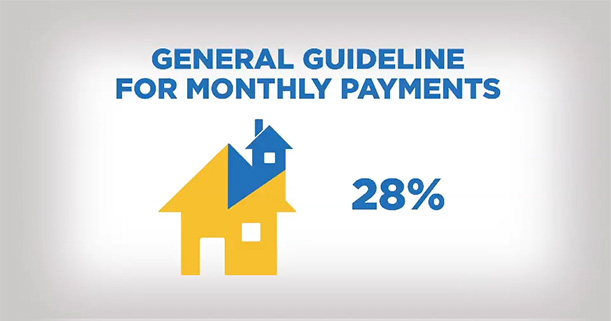 Video: Budgeting for a Mortgage
You're ready to start your home search, but just how do you budget for a mortgage? Price may be important, but that's not all you'll need to consider to have a complete picture.
When you're budgeting for a mortgage, you may want to consider these factors: the price, your down payment, your interest on the loan, and the terms of the loan. As a general guideline, some lenders suggest that your monthly housing payments should be no more than twenty-eight percent of your gross household income. Also, try to keep your other debts low. Having high debt on a credit card or elsewhere may jeopardize your ability to obtain a mortgage. Determine how much of a down payment you can afford. If you put down less than twenty percent, the lender may require you to purchase mortgage insurance.
You can run the numbers yourself by using an online mortgage calculator and by asking lenders what interest rates are currently being offered. Keep in mind that you never have to buy the most expensive house in your price range. After all, no house is perfect; it's the little touches you'll add that will transform house into home.
No Credit Card Required
This article is provided for general guidance and information. It is not intended as, nor should it be construed to be, legal, financial or other professional advice. Please consult with your attorney or financial advisor to discuss any legal or financial issues involved with credit decisions.
Published by permission from ConsumerInfo.com, Inc., an Experian company. © 2015 ConsumerInfo.com, Inc. All rights reserved.